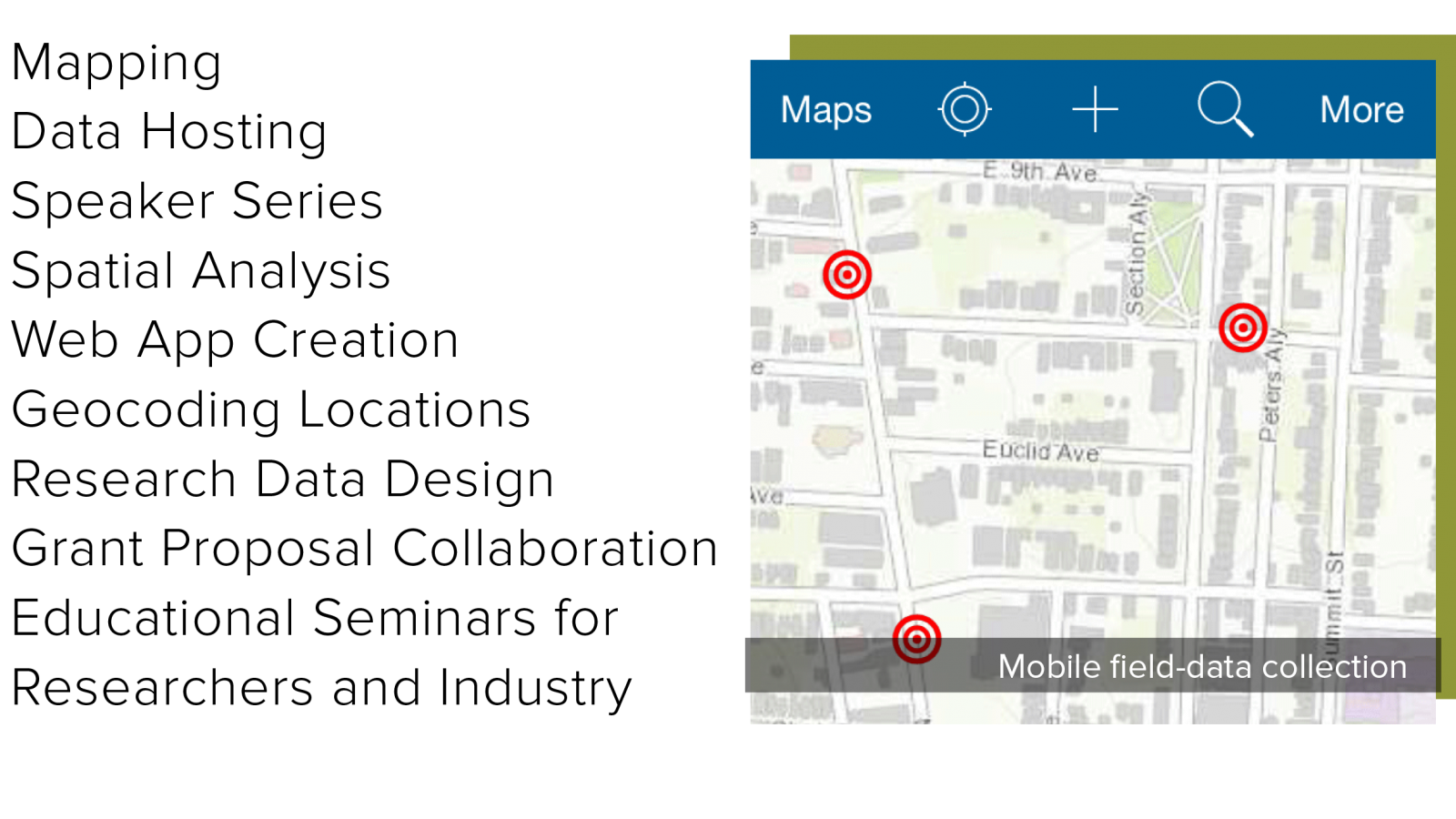 Body
CURA serves as an innovation hub which brings together researchers from across campus to integrate spatial modeling and Geographic Information Science (GIS) into all fields of research. We provide data management and design expertise, and we also offer web mapping and data hosting on our own servers. We possess strong technical expertise in transportation, housing, geo-demographics, and environmental science. If you would like to consult with us about your research project, please fill in your details on our Request for Help form.
Our services are provided to clients on campus and in the community. In a fee-for-service context, CURA charges an hourly rate and provides a detailed project proposal that defines the scope of work, budget, and timeline. Alternatively, CURA may participate in the development of proposals to secure grant funding, with faculty serving as co-investigators for relevant portions of the research.
We provide the following services to groups across campus and in the local community: 
Collaboration on Grant Proposals and Projects
Custom Tool and Application Development
Database Design
Data Conversion
Data Hosting
Dashboards (Custom or Operation Dashboard, ESRI product)
Digitization and Geo-referencing
Educational Seminars and Workshops
Geocoding
GIS Automation Using Python and Other Tools
Mapping
Spatial Analysis
Story Map Creation
CURA has extensive computing facilities which are optimized for geospatial analysis. The flagship of our computing infrastructure consists of three physical servers which are housed at the State of Ohio Datacenter. Each of these servers is provisioned with 756GB RAM, 28 processor cores, a Tesla P100 12GB graphics processing unit, and 120TB of disk storage. Together they provide the backbone for a computational cluster consisting of 20 ArcGIS Enterprise worker nodes, which are optimized for a specific functions including spatiotemporal data analysis, image processing, map tile processing, and geospatial data hosting.
Graduate students, undergraduate students and staff at CURA facilitate the use of emerging data resources and methodological approaches in geo-visualization and spatial analysis. The Center works to facilitate affiliates' access to high performance computing environments, both internal and external.
Advanced